After all, you're not just husband and wife – you are partners in a beautiful journey called life. A wish him Happy Birthday Husband, It's time to upgrade from the basic 'Happy Birthday' to something better.
Tell him to take a day off from work so you both can spend time alone as well as with the family. Do everything you can to make his birthday a celebration that he sees fit to be bluster about in front of his friends.
A Happy Birthday wish that will make him smile and give him that warm feeling on the inside. Something he will remember for years to come.
Check out these  birthday wishes for husband- you'll surely find the perfect Happy Birthday wish for your lucky partner!
HAPPY BIRTHDAY HUSBAND BEST QUOTES & LINES FOR YOUR HUBBY
Gold, silver, platinum or diamonds are not enough to express your worth, 'coz baby to me you're simply, PRICELESS! Happy Birthday. Wish you a long and satisfying life.
01) You make my days joyful, you make my love true, I am so much happier, all because of you. Happy Birthday.
02) Every time I think about you my heart sings! Happy Birthday.
03) You are my heart's desire. Happy Birthday Husband.
04) Love can be full of doubt but when I look around, I realize that being around you is the most beautiful life possible. Happy Birthday.
05) Your birthday gives me another chance to tell you that you mean more to me than anything else in the world. I love you, and I know I always will.
06) Since the day I met you, I've seen life in a way that I never had before. You rock my world! Wishing you a very Happy Birthday, Darling.
07) You are my Instagram because your love envelops my life in the most beautiful hues. Happy birthday, Husband.
Wishing you a very Happy Birthday Husband
If I had a dollar for everytime you made me laugh, I'd be…laughing all the way to the bank because I'd own it! Happy Birthday!
08) The secret to a happy marriage can be encapsulated in just four words – A Husband Like You. Happy birthday.
09) After I got married to you, I realized that real men don't wear a shining armor, they become their wives' shining armor. Happy birthday to my knight.
10) My married life is like a beautiful symphony orchestra, conducted by the man who I lovingly call my HUSBAND. Happy birthday.
11) Whoever said that all men were the same obviously never met you. Happy birthday ! Husband.
12) There isn't enough wrapping paper in the world to wrap up all the love I have for you. Happy Birthday my love!
Happy birthday to my knight
The day has arrived when you turn one more year older. I hope we laugh and cry and we always have each others shoulders. Happy Birthday honey.
13) Oh! I must be God's favorite child that he has given me you! Happy Birthday Husband Darling !
14) I know the best things in life are free but none of them stack up to you (not even close). You're the best thing that's ever happened to me. Happy birthday, sweet darling!
15) Happy Birthday, my dearest Husband! Love you and wish that your demand for my love is never ending!
16) As we travel the way of life, my feelings for you are getting stronger every single day. May your Birthday shimmer with all of the colors you dream of!
17) I love you much more than words can ever say. Happy birthday, sweetheart.
Happy Birthday my love
Faith fits you and is always seen in you. I love that about you and how I feel when I'm near you. Our love is heaven sent! Happy Birthday!
18) I can't thank you enough for all the things you've done for me. Thank you for being a part of my life. Happy Birthday Husband.
19) It may be your birthday, but I'm the lucky one here. I got to spend another whole year with you, and hopefully many more to come. Happy Birthday my love.
20) I feel safe in your arms. You make the world feel far away. Happy Birthday.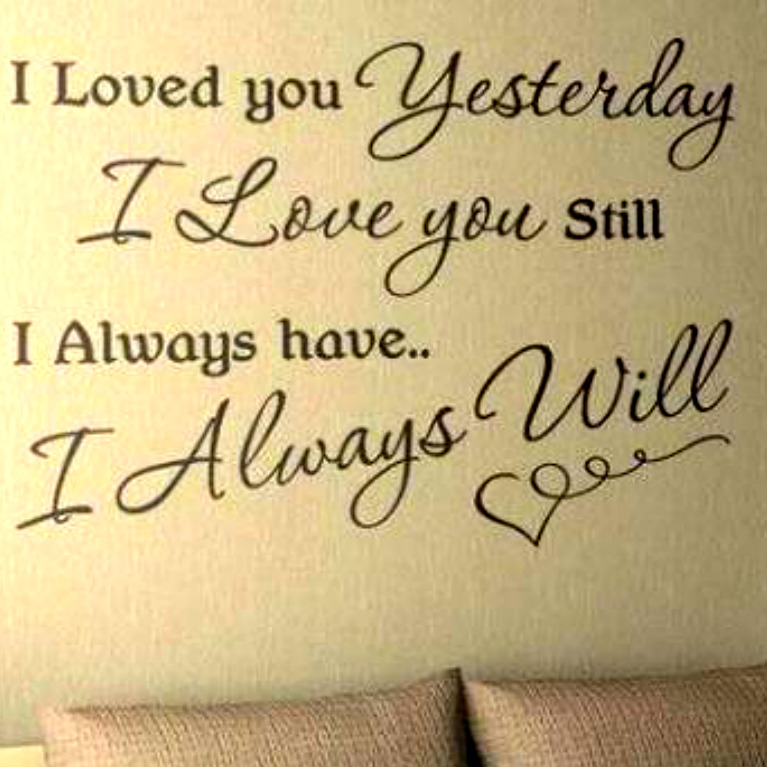 21) Wonder what good I did to deserve you. Happy Birthday my Darling Husband.
22) You have been the greatest gift I could ever have received. Happy Birthday.
Happy Birthday my Darling Husband
On this special day, I make a promise that we will grow old together gracefully and watch the sunset of our lives with our hands held, eyes locked and lips sealed. Wishing you a very Happy Birthday!
23) A flame burns in my heart for you. Happy Birthday Husband.
24) Happy Birthday to the sexiest husband ever – you turn me on like no one can.
25) If there was anyone on this planet who could make my life complete in every way, it has to be you and only you. Happy Birthday to the most loving husband ever.
26) You are rough from the outside, which is why I find you handsome. You are tender from the inside, which is why I love you. Happy birthday.
27) I fell in love with you, not because of what I found in you, but because of what you helped me find inside my heart. Happy birthday.
28) As a couple, we are inseparable. My dear husband, I Love You a lot. Happy birthday.
29) What should I give my husband on his birthday. Tons of hugs and kisses? A box of gold? A brand new car? Even all of this put together couldn't measure up to how much you deserve. I love you, Happy Birthday!
May you have a fantastic Birthday
Kisses, hugs, I send to you because it's your birthday and our love is true! Happy Birthday!
30) When words fail me, just look into my eyes and you will know how much I love you! Happy Birthday Husband.
31) Wine may get sour with age but you, are getting spicier. Happy birthday handsome.
32) Whether it is twenty-four hours a day, seven days a week, thirty days a month or twelve months a year – one lifetime will never be enough to drool over a man as handsome as you. Happy birthday.
33) Admiration, aspiration and inspiration – these are not mere motivational words, but the feelings you invoke in my heart every single day. Happy birthday darling.
34) Life may be tough but with you, it's one awesome ride. Happy birthday Husband.
Happy Birthday Dear Husband
You've given me everything I've always asked for – lots of love, the best house, the best clothes, the best set of kids, the best holidays and the best life. Today it's my turn to ask you. 'Tell me something that I can give you today because it's your Happy Birthday!'
35) I still remember the moment when we looked into each others' eyes and said I Love You for the first time… because it feels exactly the same way, even today. Happy birthday.
36) 364 days of the year, you bring me gifts but today is my turn. May you have a fantastic Birthday
37) Happy Birthday Dear Husband – You get better looking each year!"
38) You are right. I am crazy: CRAZY in love with you. Happy Birthday Husband.
39) Happy Birthday to my charming and lovely sweetie. My source of happiness, inspiration, and strength.
Happy Birthday to my  husband
We promised each other that we would grow old together. As the years pass by and as you turn one year older on your Birthday, I am reminded of how lovely it has been being with you. Let's celebrate this day and wish that each and every moment of the future turns out to be as heavenly as it has been so far. Happy Birthday hubby!
40) You bring out the best in me. You light up my world. Happy Birthday.
41) Handsome, loving, delicious, smart…hot! You've got what any woman would want and you're mine (lucky me…and lucky you). Happy birthday, husband….my lover !
42) Just look at how far we've come. I don't know what the future holds, but as long as we're together I know it'll be awesome. Happy birthday.
43) I am not getting complacent with you. It's just that I am comfortable baring my soul and sharing every bit of my life with you, without any hang-ups. Happy birthday Husband.
44) You are a great father and a loving husband, but most importantly, a man who keeps the promises he makes. Happy birthday
Have a perfect happy birthday husband
Every single day of my life that I spend with you, reminds me of how lucky I am. We have a picture perfect marriage and all the credit goes to you, my loving husband. Thanks for making it happen. Happy Birthday sweetheart.
45) It doesn't matter what gift I give you, no gift could measure up to the gift I was given: YOU.
46) You're tough and strong on the outside, and that's why I find you irresistable. Yet you're so sweet and gentle on the inside, which is why I love you. You're perfect, so have a perfect happy birthday, husband!
47) If anyone congratulates me on being such a great mother, or a perfect housewife, or a successful woman, I just tell them my success stems right from my other half- YOU. Thank you for everything, have a great birthday!
48) When my smile makes your eyes shine,
I feel like happiness has given me wings,
That I can actually fly and be on cloud nine.
On your birthday, my heart simply sings
Songs of joy, so glad that you're mine.
Happy birthday to the most caring husband
Your arms were open when I needed a hug, you understood me when I needed a friend, you showed me the way when I was stuck in life. No matter how much I try, I can never put in words what you mean to me. Happy Birthday to my beloved.
49) This gift of love
Will fit you like a glove!
Happy B'day, Mr. Husband!!
50) From the love of your life,
Happy B'day
To the love of my life
51) I wish this day is more special to you than it has ever been. I wish the stars of joy and the sunshine of success always shine above your head. Have a marvellous birthday!
52) Today is all about eating cake, unwrapping gifts, drinking and celebrating life like there's no tomorrow. Do you know why? Because it is the Birthday of the man of my dreams and the twinkle of my eye. Happy Birthday to you, my dear husband!
53) You mean so much to me that it is difficult to express my feelings in this message. All I want to say is that every moment I live and every breath I take, is just for you. Happy Birthday dear!
54) Each year you seem to be more and more wonderful…that's what has me totally hooked on you! Happy Birthday!
Happy Birthday to you, my dear husband
55) May God bless you with all the joy and happiness that you desire and hope that we walk hand in hand even after our hair turns silver. I will always love you more and more with every passing year. Happy Birthday.
56) No amount of presents and gifts can ever make up for the love you've showered upon me all your life. You truly have a heart of gold. Happy Birthday to the most loyal and giving husband in the whole world.
57) You're like the icing on the cake of my life. Without you life doesn't look good, feel good or taste good. Happy Birthday sweetheart, for the cake of my life will always need you!
58) Yippee your birthday is finally here. It is time to party! It is time to sing and dance, and it is time for birthday bumps! May you have a delicious and partylicious birthday!
59) Your birthday is another day for me and you to celebrate. For me to celebrate all that you do and for me to thank you for just being you. Happy Birthday!
60) Cake-check, candles-check, party caps-check, the birthday person-CHECK! Yay, you're here! Just popped in to make sure that you have a blast on your birthday. Happy Birthday.
This post will help you celebrate for the most adorable birthday greetings for your husband. Gush out your core feelings into words. Look into his eyes and say I Love You, just like the way you did before getting married. Pet your hubby on his birthday with  soft kisses, long hugs, and amazing presents.
How useful was this post?
Click on a star to rate it!
Average rating / 5. Vote count:
No votes so far! Be the first to rate this post.